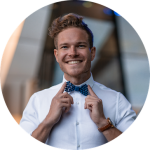 Design Engineer
Creating Sustainable Inventions through 3D Printing
Product Design for Additive Manufacturing
Making ideas become three-dimensional. Designing visually   appealing products for the consumer market, while using the maximum potential of Additive Manufacturing. Good product   design is sustainable design.
We push the boundaries of product design with the freedom of complexity of additive manufacturing. By combining different 3D softwares we create he ideal solutions for our customers.
We are not bound by traditional CAD design created for milling and injection molding processes.
We can use 3D animation software to create volumes free of limits 
The freedom of design generates a high potential to create value through complex structures. Lattice structures can bring benefits in weight, flexibility, cost and appeal. We offer different design approaches to create highly complex lattice structures aimed specifically at our clients needs.
– Volume lattices
– Surface lattices
– Conformal lattices
– Custom lattices
Our world is full of different surfaces. We are used to experiencing different feelings through touch. From biological textures like bark or leather to inorganic things like rocks and metal surfaces. Additive manufacturing and digital design gives us the opportunity to create these feelings  on any surface, from appeal, for technical purposes like grip.
– Textures on existing 3D CAD surfaces and freeform surfaces
– Custom texture development
– We create your individual touch
Additive Manufacturing is the ideal approach to produce prototypes fast and cost effective. Iteration is the way to perfection.
Combining this with parametric design to create design variations   fast and easy, creates a huge time and cost benefit. Using parametric design for customized products for clients is a highly successful market advantage 
– Creation of a large number   of test samples
– Easy customization
– Automation of design Fixing and Editing STL meshes
Using the traditional file formal STL for Additive Manufacturing has its benefits but frequently also creates problems.
We developed a special approach using different software to fix and edit any STL mesh to your needs.
This way we can optimize it for additive manufacturing and reduce the risk of build processing errors.
Using already existing shapes from natural bodies to existing parts as a base for 3D design, can save a lot of time or create a special kind of customization.
To be able to incorporate real life objects into our digital designs, we are also offering the service of industrial high resolution 3D scanning in color.
We can create precise 360º 3D models using mobile hardware with enhanced structured light scanning technology.
– Resolution up to 0.05 mm
– Scan size of 60 to 500 mm
– Export formats: OBJ, STL
Combining the freedom of design of additive manufacturing with modern 3D animation softwares gave us new tools to design and create shapes.
A more unusual way in engineering of creating surfaces and designs is the
approach of digital sculpting. We can use any 3D mesh and use tools similar to the sculpting techniques of artists using clay.
This can be used to create real looking sculptures generating unique textures or smoothing a complex 3D mesh.
We scope new ways of making artistic fantasies and aesthetic innovations reality.
This Elephant lamp was inspired by the Buddhist tradition decorating them with mandala patterns, to create an appealing and calming effect.
The Additive Manufacturing mindset is one of the most critical things in successfully implementing this technology in design and business processes. Therefore Roman Reiner gives presentations and workshops on how to unlock the full potential of Additive Manufacturing through design.
We created the jewelry and accessories brand Zyko, to show what is possible with additive manufacturing from polymers to precious metals. Our products are sustainable and printed on demand.
Open for product collaborations!
www.zyko.shop Roman Reiner GmbH
Vorderpfeinach 1

97215 Uffenheim
+34 666 862 679
+49 156 7838 2745
[contact-form-7 id="1673" title="Kontaktformular 1"]